Support free-flowing rivers in Perú
Conservamos por Naturaleza is an initiative of the Peruvian Society of Environmental Law  (SPDA) seeking to support voluntary conservation initiatives and to involve and increasing number of people conservation , working strategically across different levels.
For more than ten years, Conservamos por Naturaleza's team has been traveling around Peru in search of people who are dedicating their lives to the conservation of wild places. We traveled along routes connecting different conservation areas, discovering people, families, communities, and organizations protecting nature on the Pacific coast, the Andes and the Peruvian Amazon. It became our mission to tell their powerful, inspiring stories to the world. We wanted to ensure they received the recognition they deserved, help build bridges of collaboration with people who could donate their talent, and to inspire other Peruvians to follow in their footsteps.
Conservamos por Naturaleza is a collective platform that seeks to strategically involve more people in conservation actions through different campaigns and initiatives. Rios Libres is a campaign aiming to keep rivers in Peru clean and free-flowing, working with local communities. In alliance with Waterkeeper Alliance, we have been working on protecting the Marañon River and raising awareness of its natural, social and cultural value.
Protecting Peru's free-flowing rivers
Almost 10 years ago, Odebrecht's Chadín 2 and Enel's Veracruz hydroelectric mega-dams on the Marañón River were approved for construction. Large hydroelectric projects have proven social and environmental negative impacts such as flooded villages, damage sedimentation processes, impede fish migration and limit tourism development potential. Today, with construction yet to begin, the projects are no longer commercially viable. Local communities strongly oppose to the construction of these dams, and specialists warn that doing so would trigger an ecological catastrophe.
Both mega-dams should be generating electricity by 2022 and 2023, but neither will be able to comply with this commitment. In addition, theirenvironmental certification is not currently valid. The Peruvian Government should terminate both contracts… but will it seize this opportunity to ensure a new, sustainable future for the Marañón River? Or will it continue to push for damming this vital freshwater artery, displacing thousands of people and jeopardizing the future of the entire Amazon basin?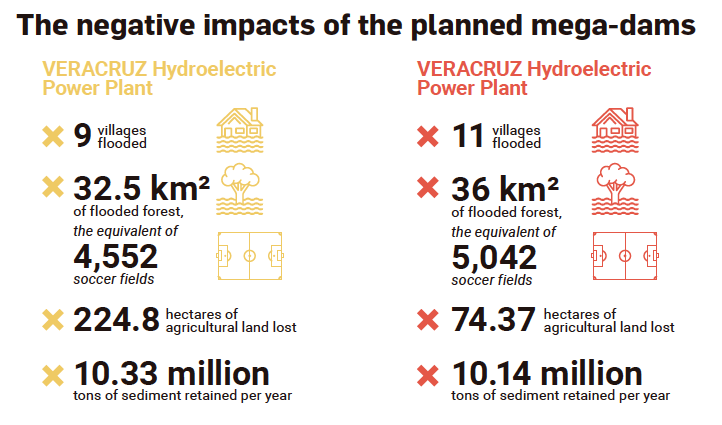 Construction of mega-dams on the Maranon River would cause negative effects such as the displacement of entire communities, loss of dry forests, among other consequences, but above all, the millenary connection between the Andes and the Amazon would be lost.
To highlight this problem, Rios Libres was created, a website where you can find detailed information, documentation and a complete explanation of why it is not a good idea to build mega-dams on the Maranon. Additionally, we also produced the documentary El Rugir del Maranon (The Roar of the Maranon), which relates the stories of struggle from people who protect this ancient river.
Donate
You can help Peruvian rivers to flow freely. With your donation, you will be supporting the work of Conservamos por Naturaleza:
Step 1 – Donate any of these amounts by using PayU payment platform:
Donate USD 50:
Donate USD 100:
Donate USD 300:
Step 2 – Send us the payment confirmation that you received from PayU, to this e-mail address: conservamos@spda.org.pe